Vung Tau is a great place for seafood. The local food scene is cool too with many atmospheric little eateries that date back decades, you can still find some other different delicious dishes to try. This list is a small sample of what's available. Make sure you do some explore by your own.
Stingray hotpot – Lau ca duoi
Lau ca duoi or Stingray hotpot, is one of the special dishes for Vung Tau citizens and visitors. It is mentioned as an outstandingly delicious folk food in Vung Tau. What makes this kind of food loved by most of people who have tried once is the freshest ingredients from the stingray to vegetables. Stingray is cooked with sour bamboo shoot soup and some spices.
This dish is also carries a great balance of nutrition. When you order lau ca duoi in the restaurant, the server will place on your table the hot pot with stingray, some pickled bamboo, slices of chillies, vermicelli, rice cracker and a plate of herbs. Each of these elements play an important role in terms of making the flavor of the dish subtle yet delicious.
Our recommend: Lau ca duoi Hoang Minh
Address: 40 Truong Cong Dinh, Ward 3, Vung Tau City
Banh khot Vung Tau – Vietnamese mini pancake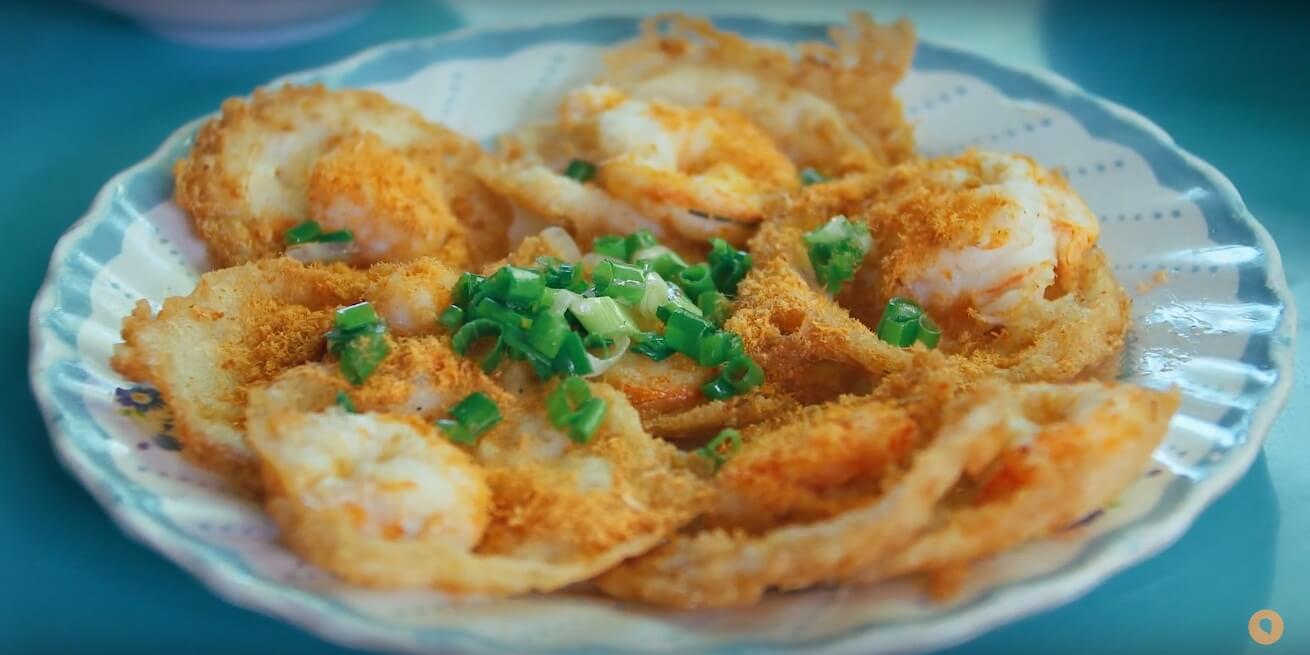 The 'banh khot' batter is made mostly by rice flour. The topping is usually shrimps. Especially, it is sprinkled with shrimp powder and spring onions. The greens that accompany with banh khot are lettuce, mustard leaves, and fresh herbs such as basil, mint, perilla,…
To enjoy it, you just wrap and roll it into a large lettuce or a mustard leaf with some kinds of herbs, then dip in special sweet and spicy fish sauce. Crunchy crunchy is what will amaze you.
Address: 14 Nguyen Truong To, Ward 12, Vung Tau City
Banh bong lan trung muoi – Sponge cake with salted egg yolk
Sponge cake with salted duck egg yolk or Banh bong lan trung muoi originated in Vung Tau city which is famous for beautiful beaches and mountains. Over 40 years ago, a small shop name is  "Goc cot dien" bakery – the first bakery making this cake was open in 1986 is located at 17B, Nguyen Truong To street, Vung Tau city, Ba Ria – Vung Tau province introduced this special sponge cake to their customers and it quickly became the most popular snack in Vung Tau because of the unique taste.  In Vung Tau, Banh bong lan trung muoi are everywhere on the streets. The cakes are sold at not only bakeries but also moving stalls on the streets.
Our recommend: Banh Bong Lan Trung Muoi Goc Cot Dien
Address: 17 Nguyen Truong To, Ward 2, Vung Tau City
Banh uot chong dia – Steamed thin rice pancake
What makes the steamed thin rice pancake here special is the portion of each dish. No, it's not huge, it's actually super small that you have to eat at least 20 dishes to be full. Banh uot chong dia is a relatively new dish in Vung Tau but it soon became a phenomenon among tourists and the local youth.
Unlike the usual dish banh uot, instead of cutting the steamed thin rice pancake into small pieces the banh uot chong dia only have a piece of steamed thin rice pancake on the plate. Customers can order a dish of pork and/or chicken, pickles and sour mango to wrap with the banh uot. For the sauces, you will have to choose either the sweet fish sauce or mam nem (fermented anchovy dipping sauce) to dip the banh uot in. Vietnamese dishes are quite interactive, aren't they? Well this one can get a lot more fun as you can hold a competition to see who can eat the most and so has the taller stack of empty dishes.
Our recommend: Banh uot chong dia 47
Address: 77 Xo Viet Nghe Tinh, Ward 8, Vung Tau City
Fresh seafood
If you want to enjoy seafood in Vung Tau and want to buy food at the market of Vietnamese, do not forget the seafood market in Vung Tau. You can easily find many kinds of seafood such as crab, snails, shrimp, blood clam, amberjack fish and so on. The fish and other kinds of seafood come directly from the sea everyday in the afternoon so it is absolutely fresh.