Without a doubt, one of the most popular things to do in Vietnam is to take a Halong Bay cruise. And for good reason; the region is stunning.
The views are incredible. You feel like you're in the middle of a misty magical land away from it all. When you share your photos, everyone is jealous. It's one of those special places you will never forget.
Taking a cruise seems to be the most popular way to explore the area. You just need to show up and everything is taken care of for you. No need to plan anything!
1. Hike in the National Park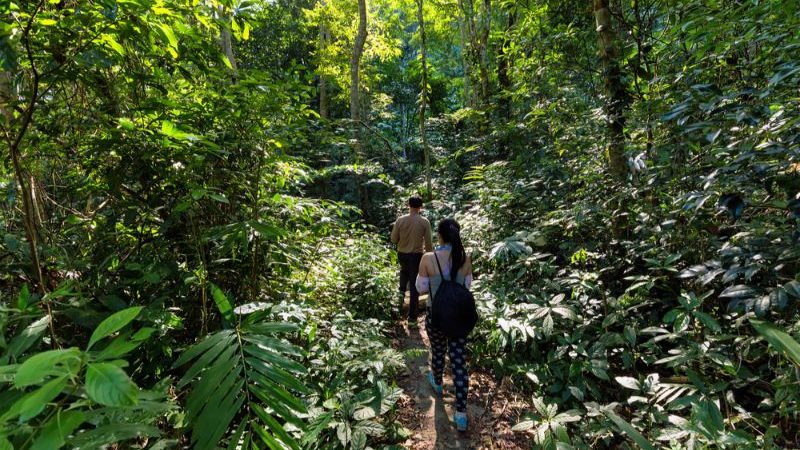 Half of Cat Ba Island was designated a park in 1986, and in 2004 it became a UNESCO World Biosphere Reserve. This ensures the flora, fauna and local wildlife will be protected, including an endangered monkey called the Cat Ba Langur.
Don't expect to see one on your hikes though. They are much like the elusive wild sloths in Costa Rica; almost impossible to spot. There are only 60 remaining on the island.
Monkey spotting aside, there are great hikes for every fitness level, with well-marked paths so that travellers can explore independently. If you're feeling adventurous and have head torches check out Trung Trang Cave, which has impressive stalactites.
Looking for a big adventure? Trek through the park to Viet Hai fishing village, which has recently developed an eco tourism project. It's a great way to support locals, the environmental efforts and help maintain traditional customs.
2. Snap the best view of Halong Bay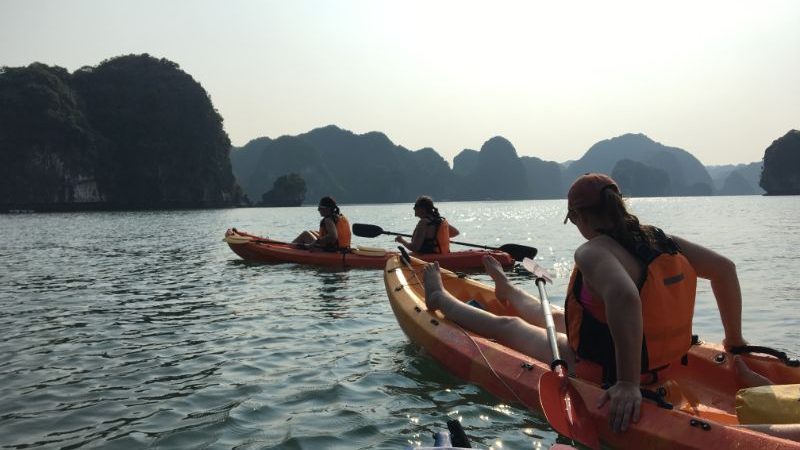 If you're looking for that Instagram-perfect photo of Halong Bay, it is not on a boat. Instead head straight up the lush island hillside to the Cannon Fort.
It's only a 30 minute walk from town but can take longer as you'll want to stop to see the tunnels, cannons and gun emplacements from the various wars.
At the top you'll get a spectacular view overlooking the bay. If you go later in the day when the fishermen return you'll also see the fishing boats in Halong Bay dotting the waters.
At the top there's a cafe and small museum. Nothing out of the ordinary, but much welcomed if you need a cool drink.
3. Spend the day on a deserted beach
There are a few beaches on Cat Ba Island and which one you go to depends on how you want to spend your day. Tourist agencies sell day trips to busiest beaches, called Cat Bat Beach 1, 2 and 3.
But if you came on vacation to escape it all, you can find that too. There are plenty of great beaches with few people on them just a short drive, kayak or hike away.
4. Visit the market
Take a short walk outside the town core to reach the local food market. This isn't a tourist-trap souvenir market but where locals on the island go to get their ingredients daily.
5. Explore the Hospital Cave
You cannot visit the country without learning about the Vietnam American War. If you've grown up only hearing about it through American media it is fascinating to see the other side.
The Hospital Cave is literally a hospital inside a cave that was in use until 1975. It's best to hire a guide in advance to take you, as there isn't much information on site with only mannequins throughout to give perspective.
6. Eat seafood, fresh off the boat
If you want to eat pizza or pasta head to Nui Ngoc Street, where everything is in English and international food reigns. But who goes to Vietnam to eat pizza?
Cat Ba is an island of fishermen. They are known for shrimp, clams, octopus and a variety of fish. If you get off the main strip, there are tons of great local spots where you'll eat fresh Vietnamese seafood dishes for a fraction of the price. The closer you get to the fishing ports, the better the food will be.
Source: intrepidtravel