Vietnam gets its name famed for a healthy respect towards many kinds of religions. When it comes to the largest city in the country – Saigon, visitors find it easy to realize that Buddhists, Christians and Muslims around the city are diverse in good numbers, in which all live together in ideal harmony.
While pagodas and temples are the places for Buddhists and Taoists to practice their belief, churches are where Christians can say their prayers. Temples and churches are dotted everywhere, some of us can wonder where to see mosques – the spots for Muslims?
Start from researching some mosques in Ho Chi Minh city, Vietnam, which is worth visiting before any booking.
Saigon Central Mosque
Saigon Central Mosque has been around since 1935 and was originally built for the Indian Muslim community living in Ho Chi Minh City. Located just off the famous shopping street of Dong Khoi, you will find this clean and well-maintained mosque with its four minarets, and colourful exterior.
Opening Hours: 8 AM to 9 PM every day
Address: 66 Dong Du Street, District 1, Ho Chi Minh City, Vietnam
Cho Lon Mosque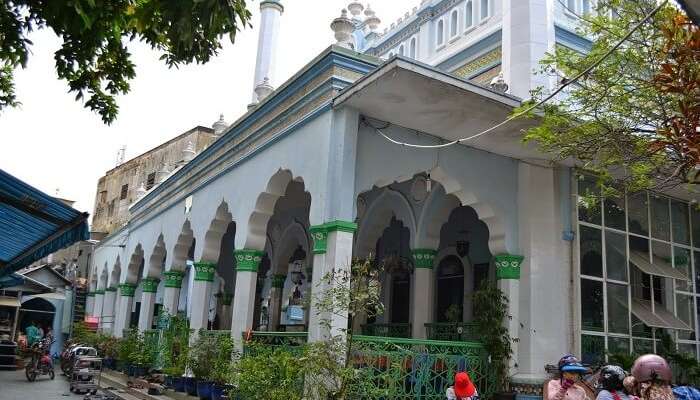 Located near Chinatown area which originally served the Southern India Muslim communities however, at present this place allows the Indonesian and Malaysian Muslims. It's simple decoration, clean lines and building's color coordination makes the place noticeable to the visitors.
Opening Hours: From Monday to Sunday
Address: 641 Nguyen Trai Street, Ward 11, District 5, Ho Chi Minh City, Vietnam
Jamiul Islamiyah Mosque
Also known as Nancy Mosque, Jamiul Islamiyah was originally constructed in 1950. Then, it was rebuilt between 1980 and 2003. In 2004, the mosque officially welcomed the ethnic Cham minority group and other Muslim followers in 2004. Situated in the main street, this mosque is considered as one of the active place of worship. There are large numbers of Muslim community surrounding this Muslim mosque in Ho Chi Minh city. If you are hungry, just roaming around the back alleyways and you are easily able to see a halal restaurant, called Pho Muslim. Satisfy your taste with one or two yummy meals.
Opening Hours: Daily
Address: 495B Tran Hung Dao Street, Cau Kho Ward, District 1, Ho Chi Minh City, Vietnam
Jamiyah Islamic Mosque
This Mosque has great amount of visibility as well as is accessible to the visitors despite situated in busiest street in the town. Constructed and known for one of the serene place for worship particularly for the people practising Islam. Its architectural impression attracts the visitors in large numbers.  Here is a prayer center of Cham people and also referred to as the representative office of the Muslim community in Ho Chi Minh city. Therefore, most Muslim prayers here belong to the community of Cham people. Especially, the cathedral is accidentally divided into two specific spots; the upstairs is reserved for prayers while the downstairs is for teaching children.
Address: 52 Nguyen Van Troi, Phu Nhuan District, Ho Chi Minh City, Vietnam