Ninh Binh is a land of charming scenery, full of mountains and rivers interlaced with vast rice paddy fields. Visit Ninh Binh and you will not only get to see famous historic sites, but a range of luxurious hotels and resorts are waiting just for you. Many Vietnamese flock to nearby sights, including the nation's biggest pagoda and the UNESCO World Heritage-listed Trang An grottoes. The region is less popular with Western tourists.
NINH BINH: A DETAILED TRAVEL GUIDE TO VIETNAM'S HIDDEN GEM
EXPERIENCE TRAVEL GUIDE TO TRANG AN GROTTOES
Ninh Binh was originally Vietnam's ancient royal capital, with most of its buildings credited to King Le Dai Hanh of the tenth century dynasty. The city itself is a fairly uneventful place, but it is surrounded by stunning scenery – lush, green paddy fields and striking limestone outcrops. The best places to stay in Ninh Binh are ideal bases for exploring this beautiful landscape.
Ninh Binh Emeralda Resort 
Managed by Emeralda Management Group, Ninh Binh Emeralda Resort is located in the Van Long Nature Reserve, Ninh Binh Province – the ancient capital of Vietnam that contains many historic buildings from the Le dynasty in the 10th century.
This five-star resort is both luxurious and comforting at the same time, making for the perfect stay in this area. The building itself follows traditional Vietnamese style and layout but contains luxurious facilities including a beautiful indoor pool. Every material used to construct this resort is natural, and the whole design was completed with domestic products, bringing great experiences to its visitors.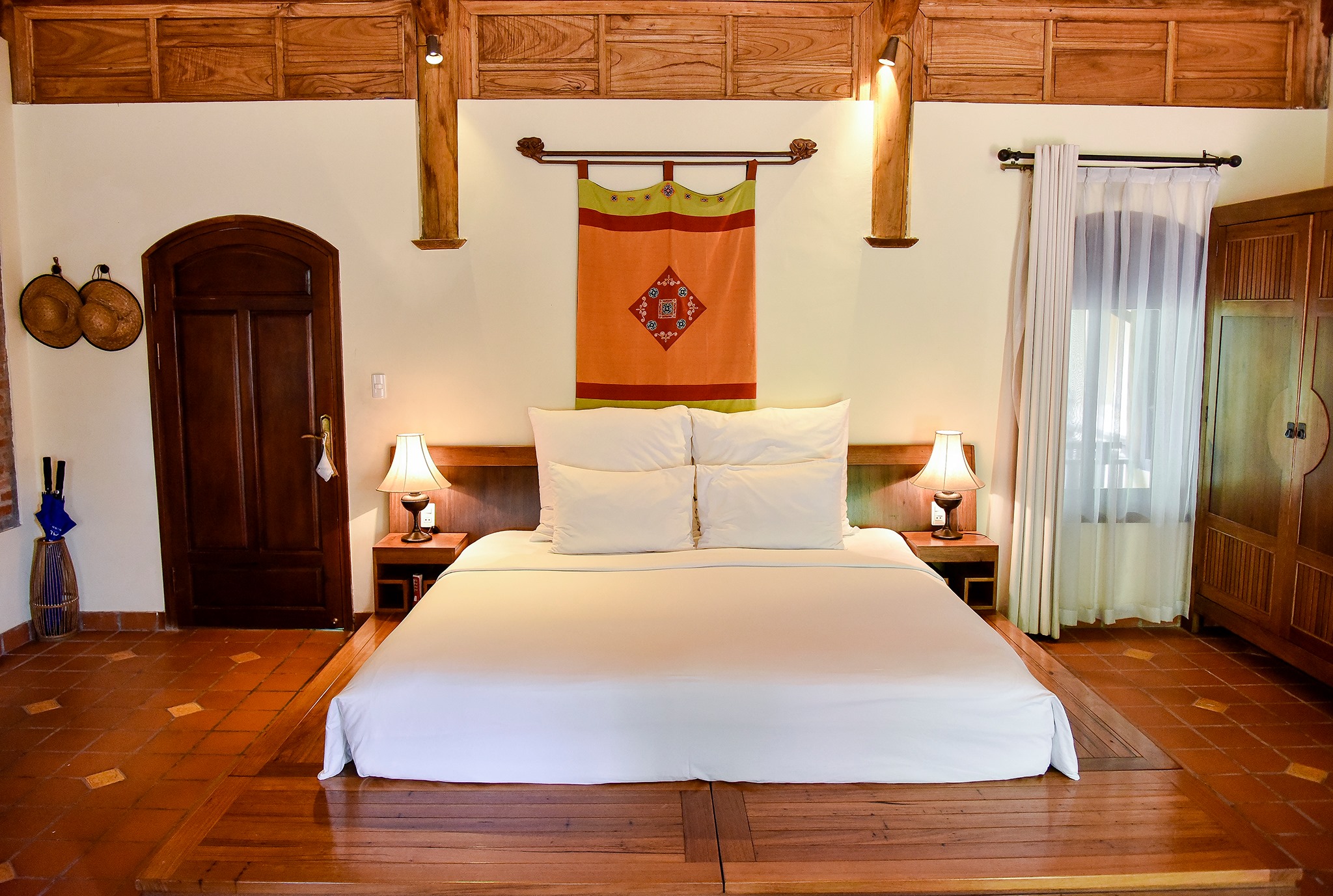 There are 172 elegant guest rooms in nine villages, three deluxe restaurants- Vietnamese and Wesstern specialties, the La Cochinchine spa, a mini golf course, a conference center and private barbeque- highly recommend for the couple wants to spend romantic times in Ninh Binh province.
Address: Van Long Nature Reserve, Gia Van commune, Gia Vien district, Ninh Binh province
Ninh Binh Hidden Charm Hotel and Resort
Ninh Binh Hidden Charm Hotel and Resort is the perfect choice for you to rest and admire the magnificent beauty of Tam Coc – Bich Dong. 98 rooms in Ninh Binh hidden charm hotel and resort were designed with brown tone color, mosaic unique pottery and delicate facilities, which combines with the magnificent view to ripen paddy field and huge mountain ranges. It seems that you stay in a royal family with the most luxurious spaces.
Situated on a shady road to Tam Coc, in the middle of a scenic spot with yellow paddy fields and far away from the rocky mountains, Ninh Binh Hidden Charm Hotel and Resort is a cozy and peaceful home where you can escape the chaotic hustle outside.
This five-star hotel is designed to be modern yet distinctly Vietnamese, providing luxurious tailings and soothing colors. Not to mention, the thoughtful staff is always ready to assist you. This hotel promises to provide you an enjoyable experience for your family and friends, giving you the feelings of being in your own home.
Address: Tam Coc – Bich Dong tourist area, Ninh Thang commune, Hoa Lu district, Ninh Binh province
The Reed Hotel – The Aria Palace
Located in Ninh Binh, 4.3 mi from Trang An Eco Tourism Complex, The Reed Hotel features air-conditioned rooms with free WiFi throughout the property. Guests can enjoy the on-site bar. Free private parking is available on site. This complex of meeting rooms, seminar rooms, conference rooms, and guest rooms with four-star standard is a top elegant choice in this remarkable area. Its modern architectural style emphasizes the landscape and maximizes natural light making the complex a proud place of Ninh Binh city.
The Reed Hotel has 150 guest rooms: Superior room, Suite, Apartment, and Presidential Suite. All rooms are equipped with luxurious amenities, modern facilities, and professional services.
Address: Dinh Dien street, Dong Thanh ward, Ninh Binh city, Ninh Binh province
Ninh Binh Legend Hotel
Ninh Binh Legend Hotel is a four-star hotel constructed to echo the style of French architecture and equipped with the most modern facilities. The hotel has 108 luxurious rooms with quiet spaces and panoramic views to the mountains. From here, you can also easily observe the vibrancy of Ninh Binh city from its every aspect.
The hotel is situated right in the heart of city, in Xuan Thanh urban community with villages of villas, magnificent castles with delightful scenery, refreshing ecologic environment with good security. It takes only about 5 minutes of walking from hotel to A Nau pagoda and to the city square.
With its classy amenities and attentive service, Ninh Binh Legend Hotel will bring you an unforgettable experience on your trip to discover the magnificent landscape of the ancient capital of Hoa Lu, Ninh Binh.
Address: Tien Dong area, Ninh Khanh ward, Ninh Binh city, Ninh Binh province
Cuc Phuong Resort and Spa
Just two kilometers from Cuc Phuong National Park, Cuc Phuong Resort & Spa is nestled in between natural surroundings. The resort offers air-conditioned rooms with mineral springs bath and free Wi-Fi. Guests can enjoy mineral mud baths or relax in the indoor and outdoor hot springs pools.
Built with simple and natural materials, this resort gives its visitors the opportunity to live in nature and flowers, to relax, and to soak in the ocean so all your worries disappear, this is the perfect place to just relax.
Address: Dong Tam village, Cuc Phuong commune, Nho Quan district, Ninh Binh province
Tam Coc Garden Resort 
It is located right between Thung Nham ecological tourism area, belonging to Hai Nham halmet, Ninh Hai commune, Hoa Lu district, Ninh Binh porvince.
Tam Coc Garden Resort is an oasis surrounded by rice paddy fields and majestic mountains. All elements including fields, lakes, gardens, fruits helps Tam Coc Garden become a tranquil and poetic place with the singing of birds.
It consists of 8 separate bungalows built according to the local architecture with rock walls, title roofs, and surrounding gardens.
Tam Coc Garden is an excellent opportunity to experience and blend into the lives of local people with paddy fields, traditional stone houses, tile roofs, bamboo fences, vegetable gardens, and fruit trees. Tam Coc Garden Resort consists of eight separate houses, each of which is divided into two bedrooms and a lobby with views of the surrounding majestic scenery. The rooms are simply decorated with stone and wood accents creating a space of comfort and sophistication. At this resort, visitors will be able to enjoy a quiet but comfortable and luxurious space.
Address: Hai Nham village, Ninh Hai commune, Hoa Lu district, Ninh Binh province
Hoang Son Peace Hotel
Hoang Son Peace Hotel is a four-star hotel, located near Dinh Tien Hoang Emperor's Square, which is a historical monument built to commemorate 1,000 years of Thang Long (Hanoi). Situated between the economic and cultural center of Ninh Binh city, Hoang Son Peace Hotel wishes to be the first door in Ninh Binh to welcome domestic and international visitors to the city.
Hoang Son Peace Hotel has 10 floors and 130 rooms of various types boasting modern yet luxurious design. All the rooms of the hotel have large windows with views to the poetic scenery of Ninh Binh city, especially when night falls. This is a great choice if you want plenty of food options and you don't want to stray too far from the city and its resources.
Address: 1 Trinh Tu street, Ninh Khanh ward, Ninh Binh city, Ninh Binh province
Vissai Hotel
Invested by a large corporation is The Vissai Cement Group. Vissai Hotel is built on an area of ​​nearly 6000 m2 with luxurious and modern architecture, located at 848, Tran Hung Dao Boulevard, the center of Ninh Binh city. It can be said that this is a hotel with the largest investment scale at the present.
Vissai Hotel's Restaurant & Bar system is designed with great elegance and beauty. The combination of Western classical architectural style and equipment with bold oriental culture gives you a completely new feeling. Make sure you will find it interesting to enjoy the services in our restaurant.
Address: 848 Tran Hung Dao street, Tan Thanh ward, Ninh Binh city, Ninh Binh province.